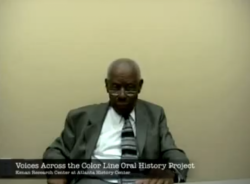 William B. Hartsfield, Allen's predecessor as mayor, was a supporter of segregation, but he also understood Atlanta's Blacks growing political power as the white Democratic Party primary was declared unconstitutional in 1946 (Chapman v. King) and the Atlanta Negro Voters League's organized in 1949. The mayor was a pragmatist and began to shift his thinking on racial matters slowly but perceptibly. He hired the first black policemen in 1947, declared Atlanta in 1955 as "a city too busy to hate" after the golf courses were desegregated without incident, and ran as a racial moderate against strongly racist opponents such as Lester Maddox in 1957. Atlanta was still a tightly segregated city with only a facade of any equality, but Hartsfield knew how to make headlines and understood where he was going with this tactic. "We do not want the hatred of Montgomery [bus boycott] or Little Rock [school desegregation]," he said in 1957. Hartsfield was attuned to Atlanta's future economic development and did not want racial issues to slow the city's growth.
On becoming president of the Atlanta Chamber of Commerce in 1960, Allen worked closely with Hartsfield, shared his perceptions about the need for some racial change, and saw Atlanta's future in the balance. He approached the racial situation as an economic issue, but it was to be much more. The civil rights movement had already come to Atlanta with a desegregation suit filed in 1950, the Atlanta Committee for Cooperative Action's (ACCA) pamphlet in early 1960 noting the racial equities and discrimination in the city, and an "Appeal For Human Rights" published in Atlanta's newspapers in March 1960 by the students of the city's black colleges. All indicated that Hartsfield had barely touched the surface of racism. The ACCA's young black businessmen and professionals and the students spelled out carefully what was needed in Atlanta, and asked the white community to step up to their responsibilities to the city's black community and to Atlanta's future as a major city. It was time for real change, even though the whites and older black leadership showed reluctance to upset the status quo. Sit-ins began soon after the Appeal.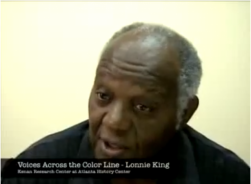 Allen noted the impact of the black community's actions and particularly the student movement when he said later that the student protests were crucial in getting the city's businesses to begin desegregation. "I don't think that we would have ever gotten the action, or it would have been a hundred years in coming, had it not been for the demonstrations." Allen was deeply involved in the desegregation discussions as downtown businesses reeled under the protests and numerous students were arrested. Martin Luther King, Jr. was arrested at one of the protests, and Atlanta faced negative national attention. Allen was fully engaged in discussions with black leaders. Finally, In March 1961, a compromise was secured, which many of the younger black protest organizers found unsatisfactory. Lunch counter desegregation would be delayed until after schools were integrated in fall 1961. In turn, blacks would cease picketing and boycotting the stores. As Allen stood on the cusp of a mayoral campaign, he was not yet a changed man in regard to race. Black leaders supported him due to Hartsfield's blessing and Allen's efforts during the desegregation discussions.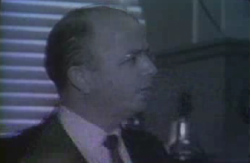 During the campaign, Allen made it very clear what were his intentions, and why he was moving in that direction. With words Hartsfield could have used, Allen said during the campaign, that "I could promise all I wanted to about Atlanta's bright, booming economic future, but none of it would come about if Atlanta failed to cope with the racial issue. That, I knew, was the real issue in this campaign: was Atlanta going to be another Little Rock, or was Atlanta going to set the pace for the New South?" Running against racist Lester Maddox, Allen sought and believed in the moderate approach. He turned to remaking his city and his viewpoint.
---
Collection items featured on this page and other items of interest:
---
Biography by Ronald Bayor, Professor Emeritus of History, Georgia Tech