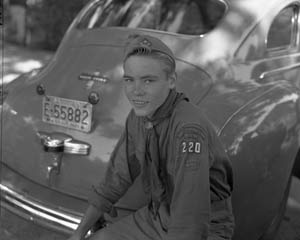 Ivan Allen Jr. joined the Boy Scouts in 1923; was scoutmaster from 1934-1936; and president Atlanta Area Council of Boy Scouts, 1945 -1947. Many Boy Scouts, such as this young man from the 1950s, benefited from his leadership.
The Legacy of Ivan Allen Jr.
Curator: Catherine M.Lewis, Ph.D
Exhibit Designer: Zoila Torres, Soli Design
Teacher's Guide: Jill K. Sauser, Ph.D., Karen Head, Ph.D.
Special Thanks: Lisa Guilford, Ferdinand "Ski" Hilenski, Ph.D.
Photos courtesy of:
Atlanta History Center
Atlanta Journal Constitution
Georgia Tech Living History Archives
For Information About the Exhibition
Please contact Dr. Catherine M. Lewis at 404-814-4117 or clewis [at] atlantahistorycenter.com