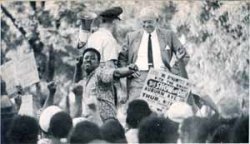 Ivan Allen during the 1966 Summerhill riot.
Target Audience for Unit: Grades 1-12
"Atlanta faced the racial issues realistically, while many others tried to retreat into segregation." - Ivan Allen Jr.
The Civil Rights movement was a time of struggle in America for justice for African Americans. Though Atlanta was often less violent than cities such as Birmingham and Montgomery, the battle for equality was not easy in "the city too busy to hate." Many of the struggles were widely reported in local newspapers.
Unit Outline:
Civil Rights Timeline [Grades 1-12]
Headline News [Grades 8-12]
Oral History Project [Grades 5-12]