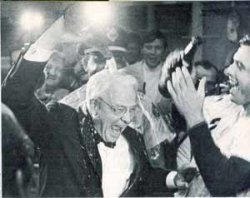 Mayor Allen celebrating with the Atlanta Braves when they won the 1969 Western Division Championship of the National League.
Target Audience for this Unit: Grades 4-12
"Mayor Allen no longer sits in Atlanta's City Hall. But few Atlantans will forget what he did while he was there. When the history of urban America in our time is written, Ivan Allen will be singled out for the kind of praise few mayors have earned. Of him, it will be accurately said that he made a very real difference." - John V. Lindsay, Mayor of New York, March 2, 1971.
Unit Outline