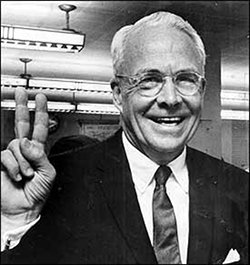 A gifted businessman, mayor, and civic leader, Ivan Allen Jr. embodied our aspirations for graduates of the Ivan Allen College of Liberal Arts.
Mayor Allen began a lifelong commitment to progress and service at Georgia Tech by serving as student body president (School of Commerce 1933). As mayor of Atlanta (1962 - 1970), Allen guided the city through the turbulence of racial integration without the violence that was exploding elsewhere across the south. He was the only important white southern political figure to testify before Congress in favor of the Civil Rights Act – an action that could have ruined his career in public office. Allen also spearheaded an extraordinary economic surge that gave birth to Atlanta's modern cultural identity.
Ivan Allen Jr. Prize for Progress and Service
Ivan Allen Jr.'s life and career illuminated the skills and values associated with a liberal arts education, and in 1990, the Ivan Allen College was founded honoring his name and legacy.  Starting in 2001, the College began awarding the Ivan Allen Jr. Prize for Progress and Service to individuals who had contributed to the progress of American civiliation through his or her service to a field or profession associated with the academic disciplines taught in the Ivan Allen College.
2001 - The Honorable Zell Miller
2002 - The Honorable Jimmy Carter
2003 - Nationally syndicated columnist Molly Ivins
2004 - The Honorable Sam Nunn
2005 - Digital game pioneer Will Wright
2006 - Atlanta businessman and civil rights leader Jesse Hill, Jr.
2007 - Conservationists and philanthropists Lessie and Charles Smithgall ('33)
2008 - Entrepreneur and philanthropist Ted Turner
2009 - World health expert and humanitarian Helen D. Gayle
2010 - Georgia healthcare leader William J. Todd.
In 2010, Georgia Tech established the Ivan Allen Jr. Prize for Social Courage, which was awarded for the first time in 2011.
Ivan Allen Jr. and Social Justice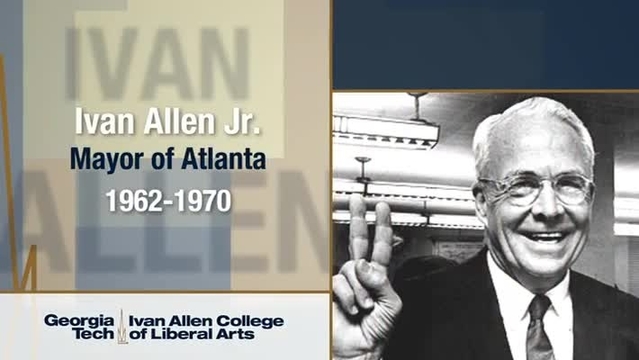 Inman Allen Speech to Atlanta Rotary, July 15, 2013