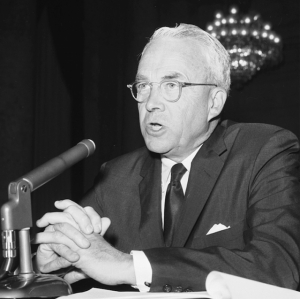 In his two terms as Mayor of Atlanta from 1962 to 1970, Ivan Allen, Jr. transformed the city from an economically stagnant and segregated town of the old South into a burgeoning international city at the forefront of civil rights.  His leadership spanned business and industry, urban infrastructure, education, the arts, sports, and international relations.
Allen was a witness in action through an era of dramatic social change in Atlanta. As mayor, he was evolving as a "man of conscience" in the early 1960s, striving to reconcile his personal vision with a highly polarized public opinion.  Allen struggled through the 1962-1963 Peyton Road Wall affair; nonetheless, he stood out as a progressive leader when he became the only southern mayor to testify before the Senate Commerce Committee in 1963 in support of the Civil Rights Act of 1964.  Allen's leadership in the face of racial and social tensions serves as his enduring legacy.
Allen graduated from the Georgia Institute of Technology in 1933, and the Institute was entrusted with stewardship of his legacy in 1990 with the founding of the Ivan Allen College of Liberal Arts.  The Ivan Allen, Jr. Digital Collection is an initiative of the College to carry forward and expand upon Allen's transformative urban policies and his values of social courage, social justice, and ethical action as a foundation for the modern context of our lives and work.  This digital collection aims to capture Allen's legacy of social courage through oral histories, newspaper articles, newsfilm clips, photos, and cartoons that address Allen's mayoral tenure and the impact he continues to have today.
In 2006, a project was begun in the Georgia Tech Ivan Allen College of Liberal Arts to showcase the legacy of Ivan Allen, Jr's life, and many of the products of that project are archived on this website.