Target Audience for Activity: Grades 6-12
Objectives:
Students will learn about Ivan Allen Jr.'s contributions to Atlanta.
Students will learn about character traits that make good civic leaders.
Students will learn to apply character traits to other people.
Students will practice their writing skills.
Supplies:
---
Ivan Allen Jr. made many contributions to the city of Atlanta, the state of Georgia, and the nation during his tenure as mayor, his lifetime service in civic organizations and his career as a family businessman.
After reading the following quotations:
Select the quotation that you think best reflects Ivan Allen Jr.'s legacy and explain your selection.
Select someone in your life (a family member, teacher, or community leader) who you think exemplifies the same quotation and write a short essay about his/her life.
---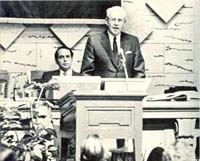 Mayor Allen delivers his farewell
address with incoming Mayor
Sam Massell looking on
"There are some people who never rise above their environment. Ivan Allen rose above his and transformed it."
 - Dr. Benjamin E. Mays
"Ivan Allen Jr. possessed the intelligence, the broad vision, the integrity to push Atlanta to greatness."
 - John Sibley
"He carried Atlanta when Atlanta needed carrying."
 - Carl Sanders former Georgia Governor
"What he has done for Atlanta is unbelievable. The way he worked in the sixties during the racial problems. He had the courage to stand on top of a car near where the stadium is now, to calm a riot going on."
 - Charles R. Yates
"I learned there was no middle ground in civil rights."
 - Ivan Allen Jr.
"On rare occasions the oratorical fog on Capitol Hill is pierced by a voice resonant with courage and dignity."
 - New York Times
"With unflinching courage, he guided this city through some of its most turbulent waters."
 - Coretta Scott King
"Ivan Allen was a courageous leader, a gentleman and a friend."
 - Sam Nunn former U.S. Senator