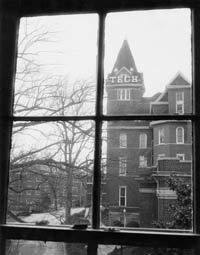 Georgia Tech Tower, ca 1920.
Target Audience for Unit: Grades 4-12
"The college I chose to go to just as the Depression was setting was Georgia Tech, right there in Atlanta, and it was then that I developed a desire to be in the center of things." - Ivan Allen Jr., from Mayor: Notes on the Sixties.
Ivan Allen graduated from Georgia Tech with a B.S. in Commerce in 1933. Ivan Allen continued to be active at Georgia Tech through the Georgia Tech Alumni Association. He received several alumni awards and an honorary doctorate from Georgia Tech. In 1990, the liberal arts college at Georgia Tech was renamed the Ivan Allen College.
Unit Outline:
Career Matching [Grades 4-12]
Learn and Earn College Bowl [Grades 6-12]
Ivan Allen Job Search [Grades 6-12]