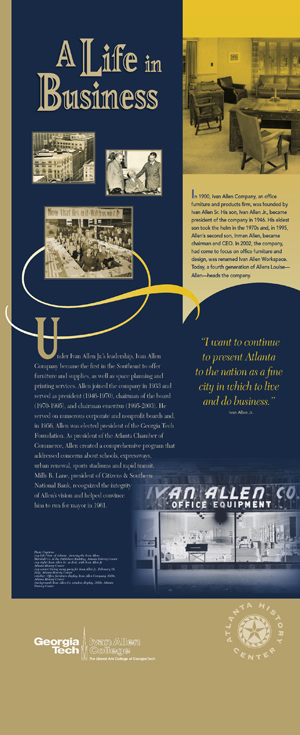 "I want to continue to present Atlanta to the nation as a fine city in which to live and do business." - Ivan Allen Jr.
In 1900, Ivan Allen Company, an office furniture and products firm, was founded by Ivan Allen Sr. His son, Ivan Allen Jr., became president of the company in 1946. His eldest son took the helm in the 1970s and, in 1995, Allen's second son, Inman Allen, became chairman and CEO. In 2002, the company, had come to focus on office furniture and design, was renamed Ivan Allen Workspace. Today, a fourth generation of Allens - Louise Allen-heads the company.
Under Ivan Allen Jr.'s leadership, Ivan Allen Company became the first in the Southeast to offer furniture and supplies, as well as space planning and printing services. Allen joined the company in 1933 and served as president (1946-1970), chairman of the board (1970-1995), and chairman emeritus (1995-2003). He served on numerous corporate and nonprofit boards and, in 1956, Allen was elected president of the Georgia Tech Foundation. As president of the Atlanta Chamber of Commerce, Allen created a comprehensive program that addressed concerns about schools, expressways, urban renewal, sports stadiums and rapid transit. Mills B. Lane, president of Citizens & Southern National Bank, recognized the integrity of Allen's vision and helped convince him to run for mayor in 1961.
Photo Captions
(top left) View of Atlanta, showing the Ivan Allen-Marshall Co. in the Publishers Building. Atlanta History Center
(top center) Going away party for Ivan Allen Jr., February 19, 1942. Atlanta History Center
(top right) Ivan Allen Sr., at desk, with Ivan Allen Jr. Atlanta History Center
(sidebar) Office furniture display, Ivan Allen Company, ca. 1950s. Atlanta History Center
(background) Ivan Allen Co. window display, ca. 1950s. Atlanta History Center