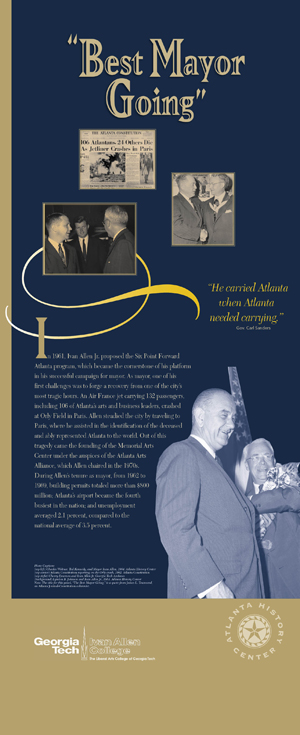 "He carried Atlanta when Atlanta needed carrying." - Carl Sanders, former Georgia Governor
In 1961, Ivan Allen Jr. proposed the Six Point Forward Atlanta program, which became the cornerstone of his platform in his successful campaign for mayor. As mayor, one of his first challenges was to forge a recovery from one of the city's most tragic hours. An Air France jet carrying 132 passengers, including 106 of Atlanta's arts and business leaders, crashed at Orly Field in Paris. Allen steadied the city by traveling to Paris, where he assisted in the identification of the deceased and ably represented Atlanta to the world. Out of this tragedy came the founding of the Memorial Arts Center under the auspices of the Atlanta Arts Alliance, which Allen chaired in the 1970s. During Allen's tenure as mayor, from 1962 to 1970, building permits totaled more than $800 million; Atlanta's airport became the fourth busiest in the nation; and unemployment averaged 2.1 percent, compared to the national average of 3.5 percent.
Photo Captions
(top left) Charles Weltner, Ted Kennedy, and Mayor Ivan Allen Jr., 1964. Atlanta History Center
(top center) Atlanta Constitution reporting on the Orly crash, 1962. Atlanta Constitution
(top right) Cherry Emerson and Ivan Allen Jr. Georgia Tech Archives
(background) Lyndon B. Johnson and Ivan Allen Jr., 1964. Atlanta History Center
Note: The title for this panel, "The Best Mayor Going," is a quote from James L. Townsend, an Atlanta Journal-Constitution columnist.